BASIL (TULSI)  "queen of herbs"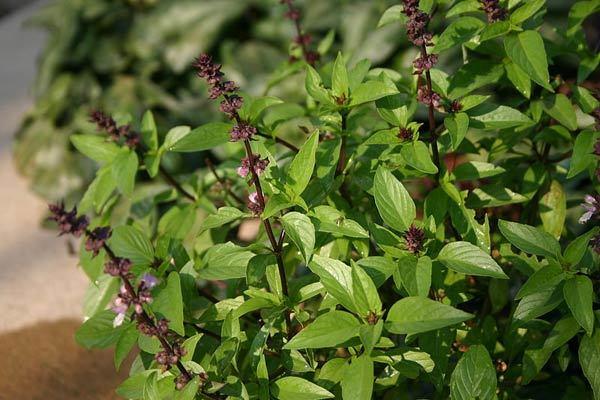 The tulsi or holy basil is an important symbol in the Hindu religious tradition and is worshiped in the morning and evening by Hindus at large. The holy basil is also a herbal remedy for a lot of common ailments. Here're top fifteen medicinal uses of tulsi.
1. Healing Power: The tulsi plant has many medicinal properties. The leaves are a nerve tonic and also sharpen memory. They promote the removal of the catarrhal matter and phlegm from the bronchial tube. The leaves strengthen the stomach and induce copious perspiration. The seed of the plant are mucilaginous.
2. Fever & Common Cold: The leaves of basil are specific for many fevers. During the rainy season, when malaria and dengue fever are widely prevalent, tender leaves, boiled with tea, act as preventive against theses diseases. In case of acute fevers, a decoction of the leaves boiled with powdered cardamom in half a liter of water and mixed with sugar and milk brings down the temperature. The juice of tulsi leaves can be used to bring down fever. Extract of tulsi leaves in fresh water should be given every 2 to 3 hours. In between one can keep giving sips of cold water. In children, it is every effective in bringing down the temperature.
3. Coughs: Tulsi is an important constituent of many Ayurvedic cough syrups and expectorants. It helps to mobilize mucus in bronchitis and asthma. Chewing tulsi leaves relieves cold and flu.
4. Sore Throat: Water boiled with basil leaves can be taken as drink in case of sore throat. This water can also be used as a gargle.
5. Respiratory Disorder: The herb is useful in the treatment of respiratory system disorder. A decoction of the leaves, with honey and ginger is an effective remedy for bronchitis, asthma, influenza, cough and cold. A decoction of the leaves, cloves and common salt also gives immediate relief in case of influenza. They should be boiled in half a liter of water till only half the water is left and add then taken.
6. Kidney Stone: Basil has strengthening effect on the kidney. In case of renal stone the juice of basil leaves and honey, if taken regularly for 6 months it will expel them via the urinary tract.
7. Heart Disorder: Basil has a beneficial effect in cardiac disease and the weakness resulting from them. It reduces the level of blood cholesterol.
8. Children's Ailments: Common pediatric problems like cough cold, fever, diarrhea and vomiting respond favorably to the juice of basil leaves. If pustules of chicken pox delay their appearance, basil leaves taken with saffron will hasten them.
9. Stress: Basil leaves are regarded as an 'adaptogen' or anti-stress agent. Recent studies have shown that the leaves afford significant protection against stress. Even healthy persons can chew 12 leaves of basil, twice a day, to prevent stress. It purifies blood and helps prevent several common elements.
10. Mouth Infections: The leaves are quit effective for the ulcer and infections in the mouth. A few leaves chewed will cure these conditions.
11. Insect Bites: The herb is a prophylactic or preventive and curative for insect stings or bites. A teaspoonful of the juice of the leaves is taken and is repeated after a few hours. Fresh juice must also be applied to the affected parts. A paste of fresh roots is also effective in case of bites of insects and leeches.
12. Skin Disorders: Applied locally, basil juice is beneficial in the treatment of ringworm and other skin diseases. It has also been tried successfully by some naturopaths in the treatment of leucoderma.
13. Teeth Disorder: The herb is useful in teeth disorders. Its leaves, dried in the sun and powdered, can be used for brushing teeth. It can also be mixed with mustered oil to make a paste and used as toothpaste. This is very good for maintaining dental health, counteracting bad breath and for massaging the gums. It is also useful in pyorrhea and other teeth disorders.
14. Headaches: Basil makes a good medicine for headache. A decoction of the leaves can be given for this disorder. Pounded leaves mixed with sandalwood paste can also be applied on the forehead for getting relief from heat, headache, and for providing coolness in general.
15. Eye Disorders: Basil juice is an effective remedy for sore eyes and night-blindness, which is generally caused by deficiency of vitamin A. Two drops of black basil juice are put into the eyes daily at bedtime.
BENEFITS OF BNS TULSI JUICE
Cures a fever: Tulsi has very potent germicidal, fungicidal, anti-bacterial and anti-biotic properties that are great for resolving fevers. It has the potential to cure any fever right from those caused due to common infections to those caused due to malaria as well. In ayurveda, it is strongly advised that a person suffering from fever should have a decoction made of tulsi leaves. In case of a fever boil a few leaves of tulsi or tulsi juice with powdered cardamom in half a litre of water( The proportion of tulsi to cardamom powder should be in the ratio 1:0.3). Let it reduce to half its total volume. Mix this decoction with sugar and milk. Sip every two to three hours. This remedy is especially good for children.
Beats diabetes: leaves of holy basil are packed with antioxidants and essential oils that produce eugenol, methyl eugenol and caryophyllene.  Collectively these substances help the pancreatic beta cells (cells that store and release insulin) function properly. This in turn helps increase sensitivity to insulin. Lowering one's blood sugar and treating diabetes effectively. An added advantage is that the antioxidants present in the leaves help beat the ill effects of oxidative stress.
Protects the heart: Tulsi has a powerful anti-oxidant component called Eugenol. This compound helps protect the heart by keeping one's blood pressure under control and lowering his/her cholesterol levels. Drink juice of tulsi on an empty stomach everyday can both prevent and protect any heart ailments.
Beats stress: According to a study conducted by the Central Drug Research Institute, Lucknow, India, tulsi helps to maintain the normal levels of the stress hormone – cortisol in the body.  The leaf also has powerful adaptogen properties (also known as anti-stress agents). It helps sooth the nerves, regulates blood circulation and beats free radicals that are produced during an episode of stress. People who have high stress jobs can drink juice of tulsi twice a day to beat stress naturally.

Dissolves kidney stones: The holy basil being a great diuretic and detoxifier is great for the kidneys. Tulsi helps reduce the uric acid levels in the blood (one of the main reasons for kidney stones is the presence of excess uric acid in the blood), helps cleanse the kidneys, the presence of acetic acid and other components in its essential oils helps in breaking down kidney stones and its painkiller effect helps dull down the pain of kidney stones. To relieve kidney stones one must have the juice of tulsi leaves with honey, every day for six months to help wash out the stone from the kidney.
Beats cancer: With strong anti-oxidant and anti-carcinogenic properties tulsi has been found to help stop the progression of breast cancer and oral cancer (caused due to chewing tobacco). This is because its compounds restrict the flow of blood to the tumour by attacking the blood vessels supplying it. Have the extract of tulsi every day to keep these conditions at bay.
Helps to quit smoking: Tulsi is known to have very strong anti- stress compounds and is great to help one quit smoking. It helps by lowering the stress that may be involved in trying to quit smoking, or stress that leads to the urge to smoke. It also has a cooling effect on the throat just like menthol drops and helps control the urge to smoke by allowing the person to chew on something. Ayurveda relies heavily on tulsi leaves as a smoking cessation device. Drink tulsi juice whenever the urge to smoke arises. Another plus is that the antioxidant property of the leaves will help fight all the damage that arises out of years of smoking.
Keeps your skin and hair healthy and glowing: The holy basil has powerful purifying properties. When eaten raw, it purifies the blood giving the skin a beautiful glow, and prevents the appearance of acne and blemishes. Its anti-bacterial and anti-fungal properties are very effective in preventing breakouts on acne prone skin. Ayurvedic doctors say that this herb can cure difficult skin conditions like those caused due to ring worms and even leucoderma. Apart from all this, it helps in reducing itchiness of the scalp and helps to reduce hair fall. Mix the juice in coconut oil and apply regularly to the scalp to prevent hair fall. Eating tulsi leaves, drinking the juice, or adding its paste to a face pack can help cure skin and hair conditions.

Heals respiratory conditions: Tulsi has immunomodulatory (helps to modulate the immune system), antitussive (suppresses the cough center, reducing the amount of cough) and expectorant properties (helps expel phlegm from the chest), that make it a great relief for coughs, cold, and other respiratory disorders including chronic and acute bronchitis. Another great property of this leaf is that it has anti-bacterial and anti-fungal properties that help to beat the infection causing the respiratory problem. It also relieves congestion since it contains potent components like camphene, eugenol and cineole in its essential oils. Its anti-allergic and anti-inflammatory properties also help to treat allergic respiratory disorders.
Cures a headache: Tulsi helps to relieve headaches caused due to sinusitis, allergies, cold or even migraines. This is because it has pain relieving and decongestant properties,  that help relieve the pain and resolve the root cause of the condition. If you are suffering from a headache, make a bowl of water that has been boiled with crushed tulsi leaves or tulsi extract juice. Cool the water till it is room temperature or bearably hot. Place a small towel in it, wring out the excess water and place this on your forehead to treat a headache. Alternatively you could dip a towel in plain warm water and add a few drops of tulsi extract juice to the towel for immediate relief.
Eliminates Pimples and Acne:
Tulsi works great on the skin, whether you eat raw leaves or apply a paste to the face. When eaten raw, it purifies the blood from toxins and prevents appearance of acne and pimples. You can also make a toner by boiling Tulsi juice in water. Let it cool for 15 minutes and then apply on the acne affected areas. This remedy will not only help eliminate pimples but will also impart an instant glow to the skin and will smooth the skin out completely.
Lightens Scars and Marks:
Besan and tulsi juice face pack is a popular pack to get rid of scar marks and get a clean and even skin tone. Skin whitening effects of besan lightens the appearance of scars and black marks and Tulsi kills the bacteria that lead to acne.
Adds Glow to the Face:
Rubbing finely powdered dry tulsi on the face like a loose powder adds glow to the face glow and removes dark spots from the face.
 Prevents Inflammation:
Tulsi leaves contain anti-bacterial and anti-fungal compounds. A paste made of Tulsi juice along with sandalwood paste and rose water can be applied on the face as it helps to prevent inflammation.
Adds Young and Fresh Look:
The antioxidants present in Tulsi makes you look younger and fresher. Tulsi is very healthy for the skin. It works well as a skin and hair moisturizer too.
 Tightens Skin Pores:
Skin with blemishes can also benefit from Tulsi leaves. Make a face pack using one egg white and Tulsi juice paste. Then rub the mixture gently on the face particularly on the infected areas of the skin. Wash off the face pack after 20 minutes scrubbing it gently. The egg white used will tighten the pores while the tulsi paste will disinfect the skin and prevent infections which cause pimples and acne.
Cures Ringworm:
Using tulsi paste and lemon helps to cure ring worms.
 Cures Skin Diseases:
Continued ingestion of juice of tulsi  leaves is believed to cure all skin diseases.
 Promotes Quick Healing:
Another good remedy for treating all types of skin diseases is boiling tulsi in mustard oil till the oil turns black. Let it cool, then strain the oil and apply all over the body during winters. This promotes quick healing. Application of tulsi juice on the boils is beneficial and gives relief too.
 Relieves Skin Irritation:
Apply tulsi paste for relief from skin irritations caused due to plucking of the hair.
 Heals Wounds, Cuts and Burns:
Dry tulsi leaves in a shade, add alum, grind and sieve well and store the powder in a clean glass bottle. Apply the powder on wounds and cuts. Pain due to burns can be alleviated by applying equal amounts of Tulsi juice and coconut oil mixed in it.
 Soothes Itching:
Rubbing tulsi leaves on areas that itch gives quick relief. Itching can also be soothed by applying a mixture of Tulsi and lemon juice.
These are just some benefits of the plant, other benefits include treatment for common colds, itchiness of the skin, treatment for insect bites, curing common conditions of the eye and as a herbal remedy for bad breath. So the text time you feel ill, try having a few leaves of tulsi or tulsi juice