About Methi/Fenugreek Seeds
Methi/Fenugreek seeds are very small seeds (dana) but have lots of health benefits which are used for years as medicinal, therapeutic and natural home remedies. It is cultivated once in a year belongs to the Fabaceae family. Methi seeds are very familiar component used in various Indian subcontinent dishes. It is famous by different names in different regions. It is called by the name methi in the Hindi, Punjabi, Urdu, Bengali and Nepali, venthayam in the Tamil, uluhaal in the Sinhala, Helba in the Arabic, menthya in the Kannada, uluwa in the Malayalam, menthulu in the Telugu, Samudra Methi in the Maharashtra (Mumbai) and etc.
Methi seeds are greatly produced in many countries such as India, Iran, Spain, Argentina, Nepal, Egypt, Pakistan, Turkey, France, Bangladesh and Morocco. India is the largest producer of the fenugreek seeds in the world. In India, methi seeds are largely produced in many states like Rajasthan, Uttar Pradesh, Maharashtra, Gujarat, Punjab, Madhya Pradesh, Uttarakhand and Haryana. Rajasthan produces approximately 80% of the total fenugreek seeds in India.
Its green and fresh leaves are used to make saag (vegetable, methi paratha), methi dana are used as a spice (panch phoron and sambar powder), sprouts (salads), pickles, vegetable dishes, daals and etc. Methi has a different compound called Sotolon which is responsible for its sweet smell.
Benefits of Methi/Fenugreek Seeds
Both methi seeds and leaves are generally available and broadly used in the Indian kitchens because of its amazing health benefits. It has minerals, fibre, iron, protein, vitamins (C and B), potassium, alkaloids and etc. It is also famous for having a compound called diosgenin (has property of oestrogen and steroidal saponins). I have mentioned some important health benefits of the methi seeds such as:
It aids a lot in the digestion by flushing out the harmful toxins from the body.
It provides relief from the indigestion, constipation and other digestive disorders.
It helps in curing the acid reflux (heartburn) as it has mucilage which covers the stomach and intestinal linings and soothes the irritated tissues of the gastrointestinal tract. Regular consumption of 1 tsf soaked methi seeds in water provide more relief as the soaking process makes its outer coating mucilaginous.
It provides relief from the fever, cough and sore throat when taken with a tsf of honey and lemon.
It is the rich source of the fibres saponins and mucilage which helps in removing the body toxins and protects the colon mucus membrane from cancers.
It reduces the bad cholesterol level (low density lipoprotein, LDL) in the blood thus reduces the risk cardiovascular diseases.
It has a special component called galactomannan (natural soluble fibre) which lowers the heart attack risk.
It is the excellent source of electrolyte potassium which helps in controlling the heart rate as well as blood pressure by counteracting the sodium action.
It helps in treating the common digestive problems like loss of appetite, stomach upset, stomach inflammation or gastritis and etc.
It prevents from the atherosclerosis which leads to the heart problems.
It is very helpful in treating the kidney ailments and deficiency symptoms of the vitamin like mouth ulcers, baldness, chronic coughs, chapped lips, beriberi, boils, cellulitis, tuberculosis, bronchitis, cancer and etc.
It has various medicinal properties because of its phytochemical compounds like diosgenin, choline, yamogenin, tigogenin, trigonelline gitogenin, and neotigogens.
It is rich in choline and antioxidant beta carotene which are very helpful to cure the problems like memory loss, arteriosclerosis, Alzheimer's disease and early ageing.
It is very effective against the roundworms and keeps insects away as it has some chemicals which act as an insecticide.
Benefits of Methi Seeds for Lactating Mothers
Methi seeds enhance the production of breast milk in the lactating mothers as it has diosgenin compound which increases the milk production.
Benefits of Methi Seeds for Men
It is very beneficial for treating various problems in men like hernia, erectile dysfunction and etc.
It is famous as an aphrodisiac which has ability to boost the testosterone level in the men. High testosterone level maintains the energy level for long time.
It enhances the sexual desire as well as treats the premature ejaculation and impotence by increasing the blood flow to the penis.
Benefits of Methi Seeds for Pregnant Women
It induces and eases the child birth during labour as it stimulates the uterine contractions and reduces the labour pain. However, its excess intake should be avoided during pregnancy as it increases the risk of miscarriage as well as premature childbirth.
Benefits of Methi Seeds for Women
It provides variety of health benefits to the women of all ages. It has different compounds (diosgenin and isoflavones) which acts as an oestrogen hormone and provides relief from the discomfort and menstrual cramps during menstruation in the women.
It eases the other menopausal symptoms including anxiety, dizziness, insomnia, hot flashes, mood variations and etc as well.
As women come under the most vulnerable group suffering from the iron deficiency during the puberty period, pregnancy and breastfeeding. Regular use of methi (either in the form of leaves or seeds) in the normal diet provides relief from all the deficiency symptoms of the iron by fulfilling the need of iron in the body.
Eating tomatoes or potatoes together with the methi enhances the power of iron absorption found in it.
It enhances the breast enlargement in the women by including it in the regular diet as it has oestrogen like property which balances the sex hormones in the women.
Benefits of Methi Seeds in Diabetes
It is well known for controlling the blood sugar level in the diabetic person as it has a natural soluble fibre known as the Galactomannan which has property to slow down the sugar absorption rate in the blood.
It also has an essential amino acid (4-hydroxy isoleucine) which is deeply responsible for enhancing the insulin production in the body.
It lowers the high triglycerides level means blood fats in the person with type 2 diabetes.
Benefits of Methi Seeds for Weight Loss
Chewing the soaked methi seeds with empty stomach in the early morning makes the stomach full and suppress appetite due to the natural soluble fibres available in the in the fenugreek seeds. In this way it helps in the weight management strategy.
Benefits of Methi Seeds for Skin
Applying paste of the methi seeds helps in treating the various skin problems including scar, inflammation, boils, burns, eczema and etc.
It makes the skin shiny, fair and blemishes free.
It is generally used as a poultice to relief various skin problems. Applying warmed methi seeds (wrapped in the cloth) directly on the skin provides relief from the local pain, wounds, swelling, inflammation, muscle pain, gout, lymphadenitis, leg ulcers, eczema and etc.
Beauty Benefits of Methi Seeds
Fenugreek seeds are in use for years as a great homemade beauty product. It is used on the face as a face pack in order to get free from the pimples, blackheads, scar, wrinkles and etc. Applying boiled water with fenugreek seeds or paste of fresh fenugreek leaves on the face for 20 mins works wonderfully for the skin.
Its seed extracts is used in the beauty products such as soaps and cosmetics.
Benefits of Methi Seeds for Hair
Adding methi in the diet or applying its paste on the hair makes hair more shiny, strong, long and black.
Daily head massage with the boiled coconut oil with the fenugreek seeds acts as a superb home remedy for the problems like hair thinning and hair fall.
Applying fenugreek seeds paste on the hair keeps away from the dandruff.
It is great source of protein and nicotinic which promotes the hair growth, lecithin which makes hair healthy, strong and hydrated.
It reduces the hair dryness and dermatitis, rebuilds hair follicles, nourishes the hair by roots and keeps the scalp free from the dandruff.
Benefits of Methi Powder for Hair
Applying methi powder paste (using water) directly on the scalp for an hour provides relief from the severe dandruff problem.
Applying methi powder mixed with the cider vinegar for 30 mins on the scalp provides relief from the dandruff, dry and itchy scalp.
Benefits of Methi Soaked Water
Drinking soaked methi seeds (1 tsf) water in the early morning with empty stomach makes the hair thicker, stronger and brighter. It also aids in the weight loss, removing pimples, relief from lip cracks and etc.
It helps in relieving the arthritis pain because of its anti-inflammatory properties.
Benefits of Fenugreek Tea
Methi seeds are also used to make methi tea which is prepared by using its seeds and water. Soak the crushed fenugreek seeds in the recently boiled water for 3 hours. After three hours it is ready to drink as a tea hot or cold. It is also available in the market as tea bags. It has various health benefits including:
Drinking its tea or eating sprouts enhances the breast tissues growth and promotes the water retention thus makes the breast fuller and larger.
It provides relief from the menopausal symptoms and enhances the libido in both men and women.
It is very effective for the person suffering from the type-2 diabetes, beri beri, heart diseases and etc.
It maintains the blood sugar level and reduces the blood cholesterol level.
It eases labour in the pregnant women and suppresses the appetite.
It cleans up the kidneys and intestines and reduces the risk of kidney stones formation.
Nutritional Value of Methi/Fenugreek Seeds per 100 g
(Source: USDA Nutrient database)
Energy: 323 Kcal
Carbohydrates: 58.35 g
Protein: 23 g
Fat: 6.41 g
Dietary Fibre: 24.6 g
Vitamins
Thiamine: 0.322 mg
Riboflavin: 0.366 mg
Niacin: 1.640 mg
Pyridoxine: 0.600 mg
Folates: 57 µg
Vitamin A: 60 IU
Vitamin C: 3 mg
Electrolytes
Sodium: 67 mg
Potassium: 770 mg
Minerals
Calcium: 176 mg
Magnesium: 191 mg
Manganese: 1.228 mg
Phosphorus: 296 mg
Copper: 1.110 mg
Iron: 33.53 mg
Selenium: 6.3 µg
Zinc: 2.50 mg
Selection and Storage of Methi/Fenugreek Seeds
It is easily available in the market in seed or powdered form. Always select golden bright yellow color seeds with hard skin. Keep it fresh in air tight glass container and dry and cool places. Avoid using old stocks as it may be infected by the fungal mold.
15 health benefits of methi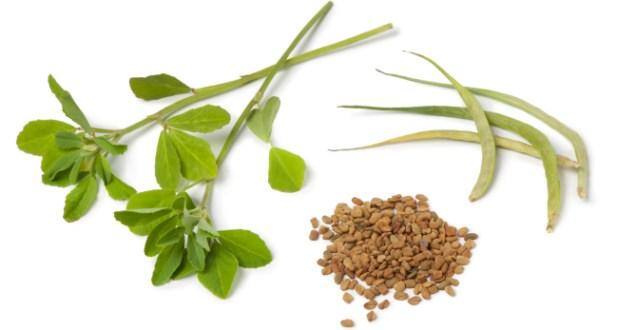 The seeds and leaves of methi (fenugreek) are readily available and widely used in Indian kitchen. They have a strong aroma and a bitter taste. But when used in small quantities they impart flavour to your food. It is commonly used in curries, vegetable dishes, dals and not to forget the mouth-watering methi paratha. But did you know that methi is a rich reservoir of medicinal properties too? Methi contains protein, fibre, vitamin C, niacin, potassium, iron and alkaloids. It also contains a compound diosgenin which has oestrogen-like properties, as well as steroidal saponins. These compounds impart many benefits to methi – from being your beauty product to being an answer to your health problems!
Here are 15 health benefits of methi (fenugreek):
Increase breast milk production
Fenugreek ranks high among the 'must haves' for nursing mothers. This is due to the presence of diosgenin in the spice which increases milk production in lactating mothers.
Induce and ease child birth
Fenugreek has been known to be helpful in inducing childbirth by stimulating uterine contractions. It is also known to reduce labour pain. But here's a word of caution. Excess intake of fenugreek seeds during pregnancy could put you in risk of miscarriage or premature childbirth.
Ease women's health problems
Fenugreek contains compounds like diosgenin and isoflavones with oestrogen-like properties which help reduce symptoms like discomfort and menstrual cramps associated with PMS. These compounds also ease menopausal symptoms like hot flashes and mood fluctuations. Women are more prone to iron deficiency during adolescence (initiation of menstrual periods), during pregnancy and breastfeeding. Including green leafy veggies like fenugreek (methi) in your diet can supply a good amount of iron. But make sure to add tomatoes or potatoes to the preparations to enhance the iron absorption.
Breast Enlargement
Want to enlarge your breasts? Include fenugreek in your regular diet. The oestrogen-like property of fenugreek can help in breast enlargement by balancing hormones in women.
Reduce cholesterol
According to studies fenugreek helps to reduce cholesterol level, especially that of the low density lipoprotein (LDL).
Reduce cardiovascular risk
Fenugreek seed has cardiovascular benefits due to the presence of galactomannan. It lowers the risk of heart attack. It is also an excellent source of potassium which counters the action of sodium to help control heart rate and blood pressure.
Control diabetes
Fenugreek is beneficial for people with diabetes.  Galactomannan, a natural soluble fibre present in fenugreek slows down the rate of sugar absorption into blood. Fenugreek also contains amino acid responsible for inducing the production of insulin.
Read more about causes, symptoms, diagnosis and treatment of diabetes.
Aid digestion
Fenugreek helps flush out harmful toxins. It relieves indigestion and helps treat constipation.
Cure acid reflux or heartburn
One teaspoon of fenugreek seeds in your food can be an effective remedy for acid reflux or heartburn. Mucilage of fenugreek seeds coat the lining of the stomach and intestine and sooth irritated gastrointestinal tissues. Before consuming, you can soak the methi seeds in water to make their outer coat mucilaginous.
Remedy for fever and sore throat
Fenugreek when taken with a teaspoon of lemon and honey can work wonders to reduce fever by nourishing the body. The soothing effect of mucilage in fenugreek also helps to relieve cough and pain from sore throat.
Prevent colon cancer
The fibre content (saponins, mucilage, etc.) of fenugreek binds to toxins in the food and flush them out. This in turn helps to protect the mucus membrane of the colon from cancers.
Lose weight by suppressing appetite
Include fenugreek in your weight loss diet by chewing soaked methi seeds in the morning on an empty stomach. The natural soluble fibre in the fenugreek can swell and fill the stomach thereby suppressing your appetite.
Cure for skin inflammation and scars

Apply a clean cloth soaked in methi seed paste for effective treatment of skin problems like burns, boils, eczema, etc. Fenugreek seeds also help in getting rid of scars.
Beauty product
Fenugreek can be an excellent ingredient for your home-made beauty product. Fenugreek can be used in face packs to help prevent blackheads, pimples, wrinkles, etc. Washing your face with water boiled with fenugreek seeds or applying a paste of fresh fenugreek leaves for twenty minutes on your face can work wonders for your skin.
Solution to hair problems
Using fenugreek as a part of your diet or as a paste to directly apply on your hair makes yourhair shiny and black. Massaging your head everyday with boiled fenugreek seeds soaked overnight in coconut oil can be an excellent remedy for thinning of hair and hair fall. What more? Fenugreek is also great to keep the dandruff away.