Home Remedies for Milia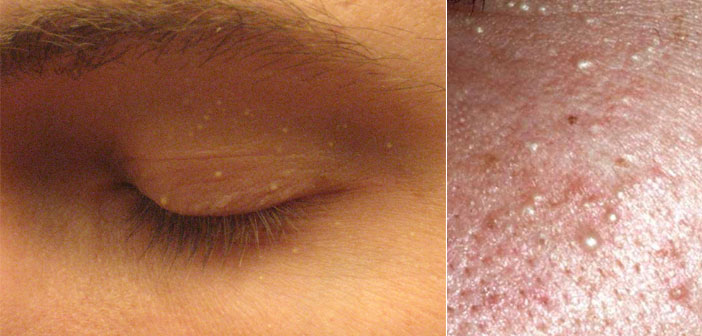 Milia are little keratin filled white or yellowish cysts popping up on face. They are sometimes seen on the faces of newborn babies and disappear within a few weeks. Milia is quite irritating on adult faces, not because they cause any itching or any other disturbing symptoms, but they mar a person's beauty.
Milia generally appear under the eyes and can also be seen on the nose, forehead, cheeks and chest. These cysts are harmless and in adults can persist for months and in some cases up to years. This condition is caused when the skin is not able to remove dead cells and leading to clogged skin pores. Milia can also be caused due to pore-clogging skin care products, blistering injuries, sun damage and prolonged use of steroid creams. Some home remedies for milia are discussed in the following lines; read on for more information.
Natural Remedies for Milia
You can try out the following home remedies for milia:
Facial Sauna: Facial sauna helps treat milia by unclogging the skin pores and remove dead skin cells and debris by loosening the skin.
Take steam on your face for 10 to 15 minutes everyday until milia clears away. After steam treatment, apply castor oil or apple cider vinegar.
Alternatively, you can soak a clean towel in hot water and drain out excess water, place the towel on face for a few minutes and remove it. This process should be treated a couple of times and should be done for about a week.
Honey: Honey has humectant and antioxidant properties, thus helps treat milia. You can also combine honey with other ingredients to make effective face scrubs to exfoliate skin and clear milia.
Apply raw honey on face, leave on for 15 minutes and rinse off. It should be done on a regular basis till you see the improvement.
Mix 2 tbsp of honey with 2 tbsp of jojoba oil and apply on face for 15 minutes, rinse off well. It should be done on a regular basis till you see the improvement.
To make an effective face scrub, mix 1 tbsp of granulated sugar with 3 tbsp of oatmeal. Rub this scrub for several minutes on face and then rinse off. Follow this method twice a week till bumps are not seen.
Castor oil: This oil has antibacterial and healing properties, thus, helps cure oil production. This helps treat various skin problems, reducing acne and milia issues in the skin.
Apply castor oil on face and leave on till it is completely absorbed in the skin. It can be continued for several months.
You can also mix same amount of castor oil with olive oil and apply in the same way as above.
Mix 1 tbsp of castor oil with baking soda and apply on the affected area, leave for a few hours and then wash off. Repeat the process for two weeks daily.
Sugar scrub: This scrub is highly beneficial in fighting with milia by exfoliating the skin. Take half lemon juice, add 1 tbsp of granulated sugar and 1 tsp of olive oil. Use this scrub for a 20 minutes and wash it off. It should be repeated twice a week for a few months till the improvement is seen.